Exactly 3 weeks from today our little Caleb is scheduled to arrive!
To say we are nervous is an understatement, YET we are trusting the Lord in the midst of all of this and thankful that he has promised to never leave us or forsake us. Whatever these next weeks and months hold, he will be right there with us...
I have a few posts planned that may or may not happen. I have a few EXCELLENT guest posts lined up for you during the month of April. I plan to pop in and out with some updates about Caleb and how he's doing after he's born, but for the most part, it's about to get pretty quiet around here. When You Rise has become a passion of mine and I forsee it continuing to be a part of our family's life after things settle down a bit. In the meantime, I feel like I have too much snuggling, playing, savoring and packing to do and too few naptimes left over the next 21 days to accomplish everything. :)
I appreciate all of your prayers and encouragements to us over the last few months. If you haven't done so, but are interested, you can keep up on all the details of Caleb, his surgeries and how you can pray for our family on his
facebook page
.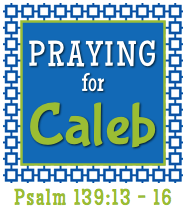 Have a great day!!