Oh how I've missed blogging consistently! This season has been hard and I'm finding myself swinging wildly between good days of experiencing the Lord's peace and resting in Him and bad days of crazy anxiety about what's ahead for our family.
You know how they say routine is good for a kid in the midst of crisis? I think it's good for adults too. So, I'm going to do my best to start carving out time each day for this passion of mine that not only energizes me as I serve and share with others, but helps me to be a more consistent and intentional Mama to Isaac and Silas. And I definitely want to use these next few months to point those little guys to Christ. It's going to be crazy for a while. And I won't be with them near as much as I want to. And if I think about it too much it makes my eyes brim with tears and my heart race.
But I have now. And now is very important. So I'm asking the Lord for grace to help me prepare for the future as best I can and leave the rest to him and help me live life today to the fullest.
There.
So I'm back.
Hopefully. ;)
This week I'm going to share some fun Christ-centered countdowns you can do with your kiddos starting this Saturday, December 1st. Today I'm sharing the one we did last year and loved and then Tuesday and Wednesday I'm sharing the 2 new things we're doing this year. They range in price and amount of preparations needed and I pray that one of these ideas will work for your family if you haven't chosen something already.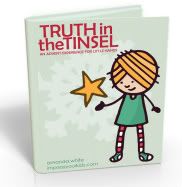 Click here to view more details
So, we raved and raved about
Truth in the Tinsel
last year, because it really is excellent. Excellent. I won't go into all the details of it in this post (you can read more about how
our first three days
went last year here), but here's a general overview of why I recommend it:
1. It's in depth.
My kids were learning about Zechariah and Elizabeth and John the Baptist and all the little details of the story of Christmas. There is nothing out there that I've found geared for preschoolers that is this in depth. I even learned a couple of things last year. For instance, did you realize that the Bible never says that there were THREE wise men? It only mentions 3 gifts and tradition has associated one wise man with each gift. Crazy!
2. It's bite sized.
Though it's in depth, Amanda has divided it into 25 manageable chunks. My boys sometimes got antsy during the Scripture reading, but it always felt like a do-able amount to read through with them, even if their attention span was extra short that day.
3. It's organized.
All the craft supplies needed for each day's ornament are clearly laid out in the book and once you've bought and/or gathered all the materials needed, it's not hard to execute the activity. She also has alternate schedules that you can use and still hit all the highlights if getting in all 25 devotions seems like way too much.
Though most I talked to last year really enjoyed
Truth in the Tinsel
, the only complaint I heard was about the crafts. Either a person's child was not into them (and honestly, my boys are not the biggest lovers of crafts) or they themselves did not enjoy preparing and doing the crafts because it's not their thing. For some, I know trying to get organized for something like this feels like more stress than it's worth and with all the extra stuff on our plate this season, I get that more than I ever have before.
PRINTABLE ORNAMENTS!
Instead of having to put a craft together for each day, you can print a picture that represents that day's devotion to use instead! (You print them and then your child can color them if they want to.) You could use it for all 25 days or just days that putting together a craft is a no-go. I LOVE it! So, if this has been something you've been leery of because of the craft-intensiveness of it, delay no more! Now it really is a great fit for any family! :) See, aren't they super cute?
Truth in the Tinsel
is priced at
$7.99
(plus cost of any craft supplies you don't have on hand)
If you got both, it would cost $11.98, but the only additional cost would be the paper and ink to print the ornaments and something to hang them with.
If your family participated in
Truth in the Tinsel
last year, what did you think?
Some of the links above are my affiliate links. To read my disclosure policy, click
here
.