I love memorizing Scripture with my boys. I know the earlier they start, they more they'll remember later and (bonus!) I'm learning/reviewing a lot as well as I teach them new verses.
Here's how I approach teaching them a new verse from Scripture:
1. Song
- This is probably my main "trick." I've mentioned this before, but I am personally able to remember verses so much better when they're set to music. My absolute favorite to use is the
SEEDS

series (there are 7 albums total to choose from right now)
. They are kid-friendly without being annoying and we listen to them in the car all. the. time. I've learned a lot of Scripture from them and so have my husband and the boys.
I also got the boys both of the
Rizers
cds for Easter. They have 2 cds so far and have a little more of a "rock" style. Not as easy listening, but it's still fun and very high quality. I hope they continue to add to their albums because they are a little different style and have quite a few songs (verses) that the
SEEDS
cd's don't have on them. I think these cds would really appeal to older elementary kids.
Here's a link
to a list of YouTube music videos of their songs to give you an idea of what the music is like before you buy it.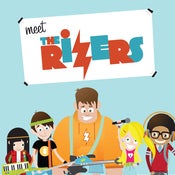 I also recently got
Hermie's Scripture Memory Songs
. It occasionally has some explanatory dialogue between the "bugs" and uses several different versions of Scripture (none of which are NIV or ESV... my preferences...), but I still like it and it was only $3.99 at our local Mardel. There are 8 in the series from what I can tell. They have one specifically with
"Christmas verses"
on it. I'm excited to check that one out!!! (Maybe our
"Day After Thanksgiving"
gift?)
Jen has
Songs for Saplings
and likes it and I've heard good things about it, so it will probably be my next Scripture memory investment. There are 2 cds in this series.
If I have a particular verse I want to teach and it's not on any of our cd's, I search for it on YouTube (
that's how I found a tune for
Matthew 28:6 - our Easter verse
). If I can't find one there, as a last resort, I'll try to put it to a familiar nursery rhyme tune (
like our Eph. 4:32 verse to Hey, Diddle Diddle
) or just make one up (l
ike our Easter verse last year that I don't have a post for - sorry! I promise, you're not missing much... my composing skills are definitely lacking ;)
2. Word cards
- I just did this on a whim for a
Valentine party
we did last year and Isaac loved it so much, I've used it for pretty much every verse we've worked on since.
I took a piece of cardstock and cut it in half lengthwise and taped the two pieces together side by side to make a long strip. I stapled a loose piece of twine on either end and made a clothesline. I pinned it to our corkboard in Isaac's room and we use mini-clothespins to hang the individual words up as we discuss and sing and work on beginning sounds. I upgraded to craft foam recently to make our strip longer so we could do longer verses and to make it a bit sturdier.
(Note: This could be really great for older kids too! Hang up all the words in order and say the verse. Remove the word cards one or two at a time, repeating the verse again each time, until the clothesline is empty and the child can say the whole verse! We use this method with dry erase markers with our Awana kids and have found it to be very effective.
For an even bigger challenge, once the child is doing well with it, review by putting up the first letter only and erasing the letters one at a time until the whole verse is said without any helps. For example, "For God so loved the world that he gave his one and only Son..." would be written "F G S L T W T H G H O A O S..." )
3. Meaningful activities
- Memorizing Scripture can turn into something kids do without having any idea what it is they're learning. I don't know how many times I've asked a child to explain to me in their own words what a verse they just quoted means and they look at me with a blank stare. Of course, as they grow older many verses will taking on deeper and more profound meaning, but it makes something so. much. easier to memorize when you know what it means before you commit it to memory. Coming up with an activity can be more time consuming and it doesn't always happen at our house, but I always try to make sure that the boys at least have a general understanding of what and why we're memorizing a specific passage.
For example, when teaching the verse, "He is not here, he has risen, just as he said" a couple of weeks ago, we made an empty tomb craft and resurrection rolls and talked about WHO was risen from the dead. This is a verse simple enough for a small child to understand, but without explanation, it's very likely that they would not have known that "he" was referring to Jesus as the one who was alive, nor would they have understood the idea of "risen." Explaining that it was a tomb that Jesus went into dead and came out of alive, helped take a verse with "big words" and make it concrete.
I also did a guest post over at
I Can Teach My Child!
about Psalm 42:1- "As the deer pants for streams of water, so my soul pants for you, O God." There are several ideas there that can be used to make the word "pants" mean "really thirsty" instead of "the clothes I wear on my legs" in the mind of a 3 year old.
Friday, I'll be sharing another verse with some practical ideas of how to help bring the abstract down to a child's level.
4. Use it!- After we've learned a verse, I try to incorporate it into daily life as much as possible. We sing the verses we've learned in the past while we're taking a bath, getting dressed or cleaning up. When an opportunity arises to encourage them using that Scripture, I try to do it as often as possible.
-If Isaac obeys right away when I tell him to pick up his toys, I say something like, "Great job, bud! You're doing the right thing! Remember what Ephesians 6:1 says?" and he'll happily tell me, "Children, obey your parents in the Lord, for this is right."
-Or if he helps Silas pick up a drink he dropped at the table I might say, "Way to show kindness! What does Ephesians 4:32 say?" and he'll respond with the first part of the verse, "Be kind and compassionate to one another."
I think this is so important so that my boys can begin to see what following God's Word looks like and see that obeying Scripture can be a source of blessing and not just getting in trouble. When I'm intentional about using it for encouragement, I also feel more comfortable using it as a means of correction. When they are not exhibiting the appropriate, God-honoring behaviors, I allow Isaac to recall what God's Word says and tell me the error of his ways. (Side note: This sounds lovely, but sometimes tantrums, defiant attitudes and such hinder any sort of meaningful conversation... but not ALWAYS and those times when we're able to discuss the Bible are wonderful teaching moments.)
Obviously, the Bible teaches us the gospel and how to live life, so the opportunities for memorization, discussion and practical application are endless! The boys will definitely be out of the house before I run out of verses to memorize with them! <Tear>
There are lots of really great memorization techniques out there. What is your favorite?
P.S. If you want some help getting started memorizing Scripture with your little ones, check out Scripture Memorization under our
More Ideas
page for free word card printables and ideas for teaching the verses.
Some of the links above are our affiliate links. To read our disclosure policy, click
here
.