(****This giveaway is now over.****)
For those of you who don't know a lot of missionaries or just want to expose your children to the needs around there world, there is an EXCELLENT resource to use with kids put out by the makers of Operation World

. About 10 years ago they created a book

designed with kids in mind called Window on the World
. It has TONS of colorful pictures and short stories about people giving you a glimpse into how things might look for the typical family there. The neat thing is it's done through a Christian lens and offers insight into how you can pray for the specific people groups represented in the book. It has nearly 100 people groups that your child can learn about and pray for. (Note: According to the reviews I read, the "updated" 2007 edition had no new information, so you might find some of the material a little outdated. I have the 2002 version and still like it a lot and find it very helpful, but I wouldn't use it as your only resource to teach world studies or anything. :)
I've started a new routine of praying from a different prayer book every morning before I even roll out of bed.
Window on the World
is one of the books I've chosen to use. I read about a country and pray for them. The mornings that I use this book in my personal prayer, I plan to then use it at breakfast to expose the boys to a group of people who need Jesus and pray with them for the nations. We've done it a couple of times already and it has been a joy to expose them to a world outside their own and begin talking about things like telling others about Jesus and the privilege we have in playing a part in their lives through prayer. They LOVE looking at the pictures and most pages have pictures of children from the various regions on them.
Here's a small sample of what you'll find in the book. Yesterday morning we discussed Albania. The page had a box with Albanian phrases in it that you can teach your kids to say. It had a picture of a boy riding on a donkey with a bucket to carry water. It had some history about the communism there and attributed the fall of the government to the prayers of believers and the hand of God. LOVE it!
At the back of the book, there is a section that highlights the major religions of the world and explains a bit more about them. This is really good for older kids and I've used it with my 3rd-6th graders in Awana before.
Does this sound like a book you'd like to have for your family or kids in your life? We're giving one away!!!
Speaking of kids and missions and prayer, check this out...
My husband, Matt's 2nd cousin, who is a senior in high school, and a friend went to Africa last summer and worked with the Watoto Organization. This mission's organization helps orphaned children and vulnerable women. These high school girls' hearts were touched and they decided to do something about it, even after they returned home. A couple of weeks ago, they launched a group called Bound-4-Africa. These fashionistas came up with the COOLEST bracelets ever and all proceeds go to the Watoto MIssion Project! Their plans at this point are to return next summer to minister again!
These bracelets are definitely on my birthday wishlist!!! Each color of bracelet has a unique story. They can be customized and if you order one, you can from choose pearls or diamonds, from a variety of colors and if you let them know the size you need, they can accommodate that too! I'm so excited to share that these girls have graciously donated five for our giveaway today! FIVE!!!!
The first place winner is going to get a copy of Window on the World AND one of these awesome bracelets! Then 4 more of you are going to win a bracelet as well! Are you as excited as we are?!? :)
WINNER #1: Window on the World and a Safi Pearl Bracelet
(Meaning: Purity. Many women in Uganda have AIDS due to rape, losing their purity unfairly.)
WINNER #2: Safi Diamond Bracelet
(Meaning: Purity. Many women in Uganda have AIDS due to rape, losing their purity unfairly.)
WINNER #3: Esther Pearl Bracelet
(Testimony from the girls: We had the privilege to travel to Uganda, Africa. We didn't realize what God had in store for us until July 26, 2011. We met a 17 yr. old girl named Esther. She was orphaned at the age of 3. Because of Watoto she was rescued and given a new life. We spent a lot of time with her and learned of her liver cancer. Never in our lives have we met a more strong person.)
WINNER #4: Subbi Pearl Bracelet
(Meaning: Suubi is a Watoto village, which means hope... hope for all the orphans who live there.)
WINNER #5: Gulu Diamond Bracelet
(Meaning: Watoto reached out to Gulu in order to help and support former child soldiers.)
AND we have a new and improved way for entering that won't require you to leave your e-mail address publicly, but will allow us to be more efficient with notifying winners. (Note: The winner's first name and last initial will be published when a winner is chosen.) Please let us know if you have any issues with getting entered in our giveaway and we'll do our best to get it taken care of!
To enter, leave a comment on this post. (Anything you want! Maybe something missions related?) AFTER LEAVING A COMMENT, ENTER YOUR INFORMATION IN THE GIVEAWAY BOX BELOW. You can enter using your name and e-mail address or sign-in through facebook. And we're going to do something special and allow you to get a 2nd entry if you'll go like Bound-4-Africa on facebook - MAKE SURE TO MARK IN THE GIVEAWAY BOX THAT YOU DID SO! (And maybe while you're there, leave a quick note of encouragement on their wall? Or order a bracelet for you and/or your daughter to help you remember to pray for missions?)
If you don't have a facebook account and would like to order a bracelet, please e-mail us at whenurise@gmail.com and we'll help you out!
The giveaway ends Thursday, Jan. 12th at Midnight and we'll announce a winner Friday, Jan. 13th.
We linked up at: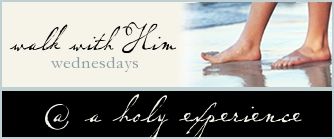 Some of the above links are our affiliate links. To read our financial disclosure, click here.
a Rafflecopter giveaway