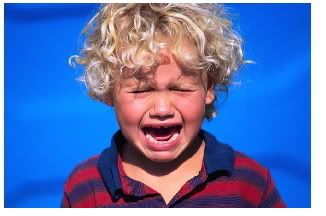 Photo courtesy of Photobucket.com
Two year olds are not rational.
And I'm guessing since Isaac turns 3 in two weeks, that three year olds aren't either.
We can be sitting down to one of his favorite meals for dinner and a complete meltdown ensues because it's not served on the plate he wanted.
We can let him choose a board game from the very top of the closet and once we finally get the game tub put back away and sit down to play the game he chose, he screams his head off because he doesn't want to play that one anymore.
We can tell him it's bathtime and he'll throw himself on the floor in protest because he doesn't want to take one and then do it again 30 minutes later when we tell him it's time to get out.
I could go on...
What's a girl to do? In all of the above situations we, of course, discipline our wonderful son (and we really do love him more than words can express). But that discipline doesn't change his attitude that can be so difficult to deal with. Most of the time the discipline makes the attitude and behavior worse. It's not uncommon for one of the above scenarios to quickly spiral out of control, even when Matt and I remain calm and handle the situation as lovingly as we know how.
I've always felt pretty in control of things. But the longer I'm a Mama, the more I realize that I'm not. I can do everything "right" and things are still going to go desperately wrong sometimes. While I think there is definitely some visible fruit for our efforts to "train up our children in the way they should go," I come to the end of the rope time and again. Usually on a daily basis.
I've read a few chapters from Taking Hold of God: Reformed and Puritan Perspectives on Prayer
. (I haven't read the whole thing, but I'm a definite fan of what I have read.) It's basically a book that gives you a look into the prayer lives of some of the greatest theologians who ever lived. One thing that John Calvin said struck me and I've been praying it ever since. He said that in prayer, we are "permitted to pour into God's bosom the difficulties which torment us, in order that he may loosen the knots which we cannot untie."
The knots that we can't untie.
I feel like this perfectly describes how I feel as a parent so often. To an extent, I CAN control a lot of things about my boys... most of what they're exposed to, but that control ends and THEY take over when it comes to their response to life.
I can discipline (and I should).
I can beg (and I sometimes do).
But I CAN'T make him swallow a green bean (I've tried!). I can't make the word "please" come out of his mouth (he usually does this with no problem, but then there are those days...).
So, on the many occasions that I realize I'm not in control of the situation, I've found Calvin's words comforting. I stop and pray (sometimes almost kind of scream in frustration and despair).
God, I can't do any more than I've done. I've disciplined and tried to train him to do what is right. I can't control this child's heart or his behavior. Please soften his heart and work in his life. Please loosen these knots that I cannot untie!
Prayer has always been an area of weakness for me (and still is!), but at least in these out of control moments, I'm finding the beauty of taking the problem to Jesus, because there's literally nothing more I can do. For the first time, I've actually had sighs of relief in the midst of a child screaming in the background because I've placed his heart into much more capable Hands than mine.
I'm not about to tell you this is the secret to getting your child to behave, but I have been amazed by the number of times the knots have been loosened and OUR hearts have been softened to the Savior. Not only do the Capable Hands change our hearts, but then HE gets the glory too!
The link(s) in this post are our referral link(s). To read our disclosure policy, click here.
We linked up at: